Control and protect your network
with HiveDNS
HiveDNS is a cloud-based web filtering solution that allows you to manage, limit and protect yourself from web threats, without installing any software. Thanks to HiveDNS you can safely explore the web, protecting yourself from dangerous activities and preventing access to unsafe or unsuitable sites.
Family
Control your children's online activity: choose which categories of web content to make accessible and block access to those you deem dangerous or inappropriate.
Enterprise
Limit and control the web content that employees can access by creating blacklists and whitelists. Prevent illegal activity and increase your organization's productivity.
Hotspot
Provide fast and secure internet access to guests, customers and employees. Prevent misuse of the network and enforce web usage policies that comply with your regulations.
Secure your network with any additional fees. Security policies management is totally cloud-based and any software be required.
Block unsuitable web sites thanks to the use of 50 categories or customizable and scalable blacklists.
Get detailed reports based on categories of sites, in real time, with aggregated data in line with GDPR.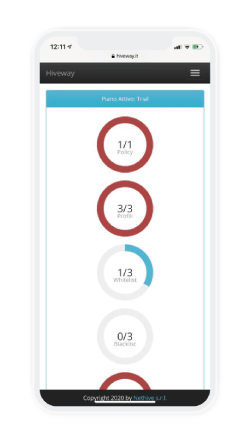 Block connections to malicious or illegal web domains, ensuring a browsing experience free from malware.
Thanks to a simple, intuitive and responsive interface, accessing the management portal is quick and easy.
Customize the block page with elements of your brand identity and explain to users why the content of the page has been blocked.